*please note - website does not always display correctly in Firefox. Chrome seems to be the best browser for viewing this website.
Announcing: Project launched to help youth: Listen, Learn, Lead
https://listenlearnlead4h.weebly.com
Danika Gordon, who is a nine-year Butte-Lawrence County 4-H member, has created a new leadership project as part of her role as a current state 4-H ambassador. Gordon has established a website titled Listen, Learn, Lead – or L3 for short. For 2019, she has posted four TED Talks for youth to listen to on the site at https://listenlearnlead4h.weebly.com/. Discussion questions developed by Gordon are also listed with each of the talks to prompt reflection either as an individual or group setting. Gordon suggests youth might gather to watch the TED Talks during a 4-H club, 4-H junior leaders or FFA chapter meeting, or simply during free time or as a family. She says the project was designed to be similar to a book club. After watching the TED Talk, youth can have a short discussion with others about what they learned or agreed with – or maybe disagreed with – from the presentation. The topics Gordon selected for this year's TED Talks highlight introverts, body language, views on leadership and thoughts on what helps people be successful in school and life. Gordon hopes to select four new TED Talk presentations annually to continue fostering learning and leadership among South Dakota youth. Youth who watch the TED Talks and then post a comment on the L3 Facebook page, will also be entered into a drawing for an Amazon gift card. To learn more check out: https://listenlearnlead4h.weebly.com

Annual T-Shirt Logo Contest - Deadline April 15
It's time for our annual t-shirt logo contest! Submit your logo design idea via email to sd4hleaders@santel.net by April 15. The logo design may be hand drawn or created with computer software, and should be an original idea. Keep in mind a few guidelines for using the 4-H Clover. If you have any questions on these, please let me know. You will find our current logos on our website from the T-shirt page link.
Use the whole Emblem. The 4-H Emblem should always appear in its entirety—meaning it should always appear as a whole and complete image.
Do not remove any leaves. The leaves cannot be removed or have another image superimposed over the top of any of the leaves. Other images should be moved and appear completely separate from the 4-H Emblem. This also means you should not "cut off" a leaf by running it off the edge of the paper in print media or other designs.
Do not place text or other images over or on top of the 4-H Emblem. The 4-H Emblem should not appear screened or watermarked under words or graphics. No photo, drawing, symbol, word, or other figure or object may be placed on or obscure the 4-H Emblem.
Keep it upright. The 4-H Emblem should not be rotated or turned on its side.
Distortion and Proportion. The appearance, shape, and proportion of the 4-H Emblem should never be distorted to fit in an imprint space. Do not make the 4-H Emblem longer, taller, wider, angled, or squarer. Do not alter the shape in any way. The overall size of the 4-H Emblem may be changed, but the proportions must remain intact.
Color. The 4-H Emblem should never be screened, shaded, gradated, or appear in a multi-colored hue. Graphic Designers: The official color is 100% PMS 347 green.

The clover can be green, white, black, or metallic gold. Below are the official guidelines for each color clover:
The "H's" on the green clover can be white, black, or metallic gold. The H's on the black clover should be white. The H's on the white clover can be black or green. The H's on the metallic gold clover can be white, black, or metallic gold (when embossed).
The winning logo will be used on shirts that we sell at the SD State Fair and throughout the year. The person who submits the winning logo will receive $50. Get those ideas coming!!
Statewide Community Service Project
We urge you to support the South Dakota 4-H Community Service Project. We have partnered with Soles4Souls for this year's project to collect 10,000 pairs of shoes.
Soles4Souls takes gently used shoes and ships them to countries in need. Shoes are an essential item for those in developing countries. Soles4Souls mission is to create sustainable jobs and provide relief through the distribution of shoes and clothing around the world. Go to https://soles4souls.org/ to learn more. You will find a short video on this page: https://soles4souls.org/our-impact/.
You can take your new or gently used shoes to your local 4-H office or an SDSU Regional Center. The requested deadline for the shoes is June 1, but we will continue to accept donations until August 1, 2019. Let's make an impact!!
Plan for TLC!!
The theme for 4-H Teen Leadership Conference 2019 is "Master Life's Circus"! Save the date on your calendar…June 3-7 on the SDSU campus in Brookings for any teen age 13-18! Registration opens April 1st!
Quick Links
4-H Shooting Sports rules: https://extension.sdstate.edu/south-dakota-4-h/competitions-state-fair
State 4-H Rodeo Resources: https://extension.sdstate.edu/south-dakota-4-h/competitions-state-fair
4-H Event Deadlines: https://extension.sdstate.edu/south-dakota-4-h/4h-event-deadlines
Camps & Conferences: https://extension.sdstate.edu/south-dakota-4-h/camps-conferences
Contacts: https://extension.sdstate.edu/about/our-experts
State Fair 2018 results here!! https://extension.sdstate.edu/south-dakota-4-h/results-recognition

Order shirts, hoodies, jackets or hats!
We were excited to offer new shirt logos for the 2018 State Fair! Congratulations to the two winning entries from our logo contest submitted by Clara Fink and Jackie Kessler! If you weren't able to make it to the State Fair, you can still order your shirt, hoodie, sweatshirt, polo, jacket, or even hat!! The new logos are below and you can find older logos as well as all the shirt style/color options on our shirt page: T-Shirts & Hoodies
Here is the link to the order form. If you want a hat, under t-shirt style put hat - pick your color and quantity. We just have the one logo choice.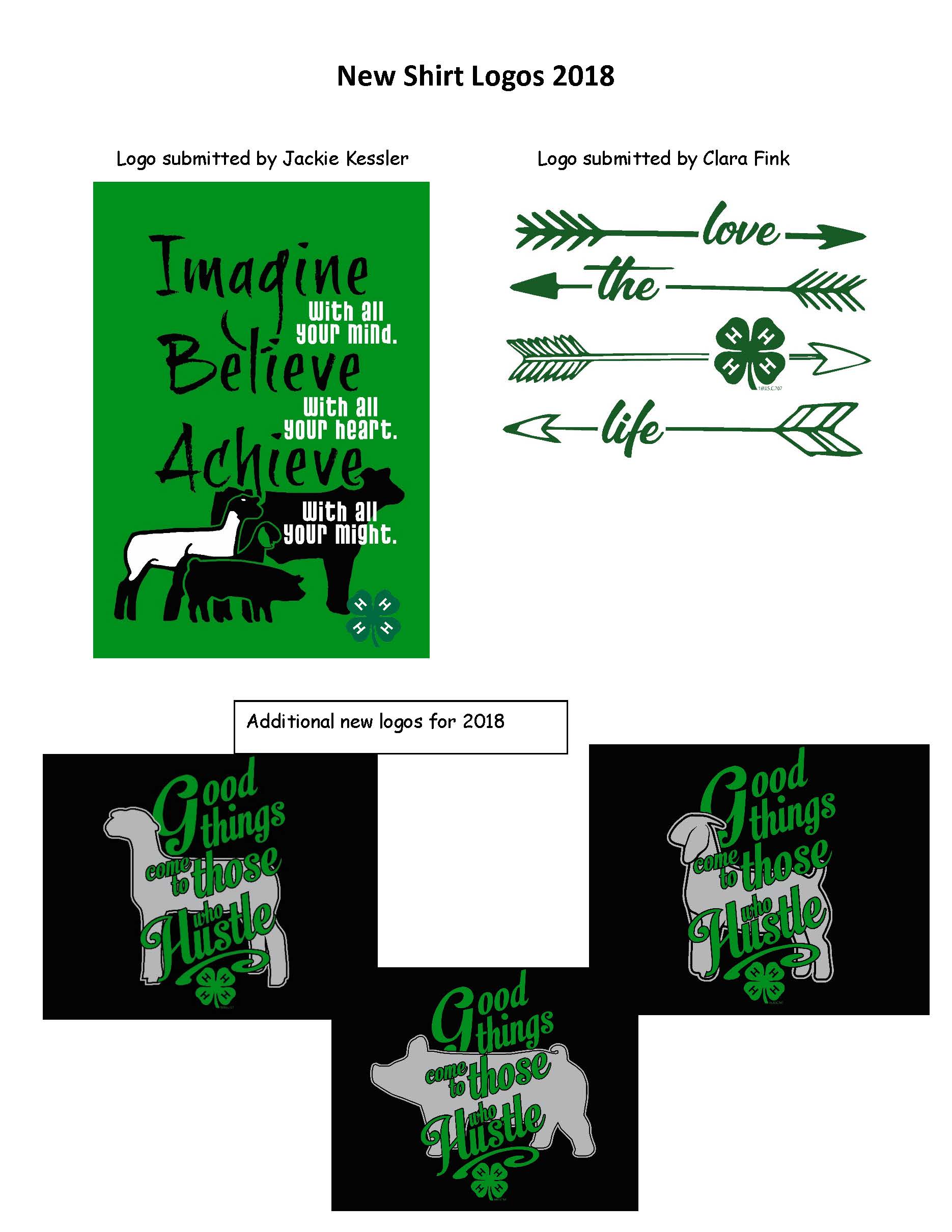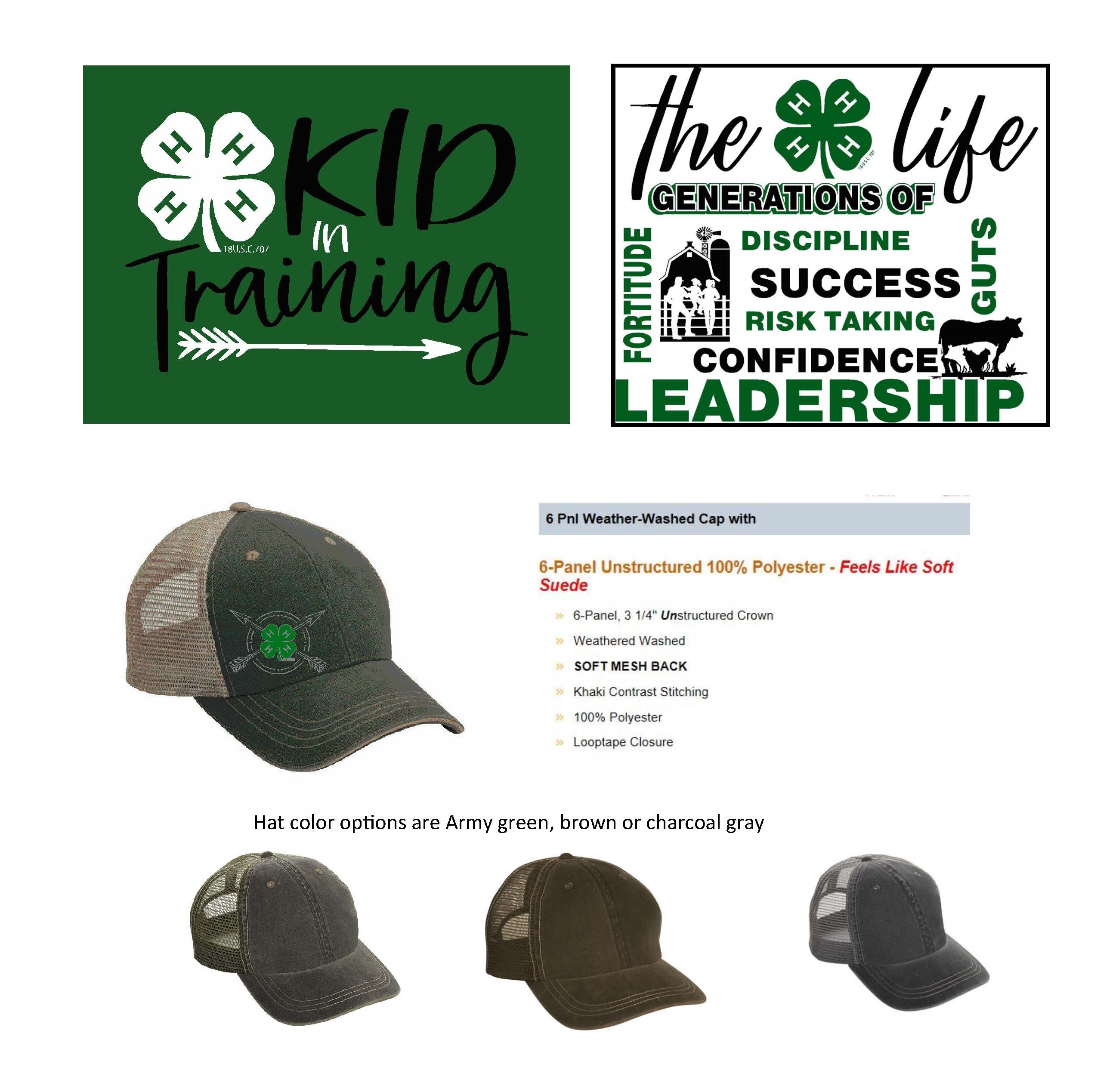 Judging 4-H Cookies & Bars
Here is the first of the training videos from SD 4-H Leaders.
Link to the video https://youtu.be/g6hjXzfrY
Link to a document with more information that could be printed for reference http://www.southdakota4hleaders.com/Judging/JudgingCookies.pdf
We hope that this video (and the ones to come) will be a good resource for judges, as well as for our families preparing the exhibits.
South Dakota 4-H Leader Meeting News
We are going to begin placing a news summary of our regular SD 4-H Leaders Association Board Meeting on the website. Here are the last three meetings.

February 24, 2018 Meeting
April 9, 2018 Meeting
May 21, 2018 Meeting
State Fair Book 2018
The 2018 State Fair book is uploaded to iGrow and you will find the direct link here: http://igrow.org/up/resources/01-4000-2018.pdf. You will find many helpful resources from the State Fair page on iGrow here http://igrow.org/4h/south-dakota-4h/state-fair.
South Dakota 4-H Events & Deadlines
Check back here regularly for event dates and deadlines http://igrow.org/4h/south-dakota-4h/south-dakota-state-4-h-events-deadlines

Exhibit Hall Fundraising
Kudos to so many of you for a tremendous job at fundraising, donations and support of the new Exhibit Hall! How wonderful it was to use the building this year during the SD State Fair!
Currently, our new overall State Fair Foundation campaign total is over $4.37 million towards the $4.7 million goal! We encourage you to continue your efforts, and if you have not made a commitment, respectfully ask that you work towards that.
Here is more information:
SD 4-H is on Facebook!!
Click here to find SD 4-H on Facebook and find the latest information revolving around 4-H activities in SD.

Click here to find SD 4-H Leaders Association on Facebook!
Rural Youth Loan Program
Here is information about the Rural Youth Loan Program available to 4-H members. The U.S. Department of Agriculture's Farm Service Agency (FSA) makes operating loans of up to $5,000 to eligible individual rural youths age 10 through 20 to finance income-producing, agriculture-related projects. The project must be of modest size, educational, and initiated, developed and carried out by rural youths participating in 4-H clubs, FFA, or a similar organization. For more information, leaders should contact their local FSA Office or visit http://www.fsa.usda.gov.
A one page fact sheet is available at: http://www.fsa.usda.gov/Internet/FSA_File/loanyouth.pdf.

Farm Credit has a similar program available for youth loans! You will find information on their website http://www.myaglender.com/youth-loans_5152_ct.aspx.

 
Visitors to 4-H Leaders Page: