*please note - website does not always display correctly in Firefox. Chrome seems to be the best browser for viewing this website.






2023 SD 4-H State Fair Book
The 2023 4-H State Fair Book has been uploaded to the state website! https://extension.sdstate.edu/.../files/2022-03/MC-02545.pdf


Please note that page 5 has a summary of changes from the 2022 State Fair book.
**Entry Limits have been set by each department. There are no overall caps on exhibit entries by participants. Please see each department for the specific entry limit. As an example, the entry limit for all Display Exhibits is 6 entries, for Poultry is 4 entries, and Sheep is 4 entries. In general, for each department, you will find the entry limit under Eligibility Requirements.
**Check out the YIA Mastery Showcase opportunity on pages 57-58.
**The SD 4-H Livestock Integrity Pledge was implemented during the 2022 4-H year. Find details on page 104. Also review page 105 on IAFE Show Ring Code of Ethics.


4-H Online sign in link


We provide a number of scholarships to our 4-H Members!

4-H Camp, TLC, Performing Arts, SDSU Livestock Judging Camp, National Trips, Ambassador Scholarships
We offer the following scholarships:
4-H Camp @ Lake Poinsett or Storm Mountain - $50
Teen Leadership Conference/TLC - $75
Performing Arts - $75
SDSU Livestock Judging Camp - $75
National Trips - National 4-H Shooting Sports or NAILE or FCS Skillathon Denver 2023 or Fashion Revue Contest Denver 2023 or National Land & Range Judging (OK) - $75
4-H Ambassador - $75

Here is how the scholarship program works for camps or trips.
Step 1 Register for the 2023 event and pay the full fees.
Step 2 Attend the event and have a great time!!
Step 3 Tell one group (4-H camp) or two groups (all other scholarship options) about the event or experience.
Step 4 Complete the camp assistance/scholarship application form with all signatures and submit to the SD 4-H Leaders. Electronic signatures are acceptable, and the completed form may be scanned and emailed or mailed. You will receive your scholarship money within 2 weeks of its receipt. Applications are due by December 31, 2023.
**Click here for the camp App-CampFeeAssistance.pdf
**Click here for the National Trip form App-NationalTripScholarship.pdf
Here are the details on the 4-H Ambassador Scholarship
The SD 4-H Leaders offer a scholarship assistance program to provide a $75 scholarship to assist with travel and clothing expenses for 4-H Ambassadors.
Here s how it works:
*Step 1 You were chosen as a 4-H Ambassador!
*Step 2 Tell 2 groups about your Ambassador role and plans. You may choose to tell your 4-H Club, your FFA chapter, a class at school, etc. Spread the word about this great opportunity!
*Step 3 Complete the application with all signatures and submit to the SD 4-H Leaders. You will receive your scholarship money within 2 weeks of its receipt. Applications are due by December 31, 2023.
App-AmbassadorScholarship.pdf



Leader Dues
Leader dues for 2022-2023 are $3 per leader if paid by December 31, 2022 or $4 per leader if paid after December 31. Dues may be mailed to State 4-H Leaders of SD, c/o Paula Linke, Executive Secretary, 39833 233rd St, Woonsocket SD 57385. Please include this completed worksheet with your check, and also email the worksheet to her at sd4hleaders@santel.net.
T-shirts, Hoodies, 1/4 Zips, Jackets, Hats, Jewelry and More Available:
SOON TO BE UPDATED FOR 2023! We are very excited to roll out new logos and apparel in 2022 at the State Fair!! Congratulations to our winner of the t-shirt logo contest...Dawn Covey with "Faith, Family, 4-H"! Note that the SD 4-H Leaders sell apparel and jewelry year-round. Check out all the options here. Just place your order at least two weeks ahead of when you need the shirts.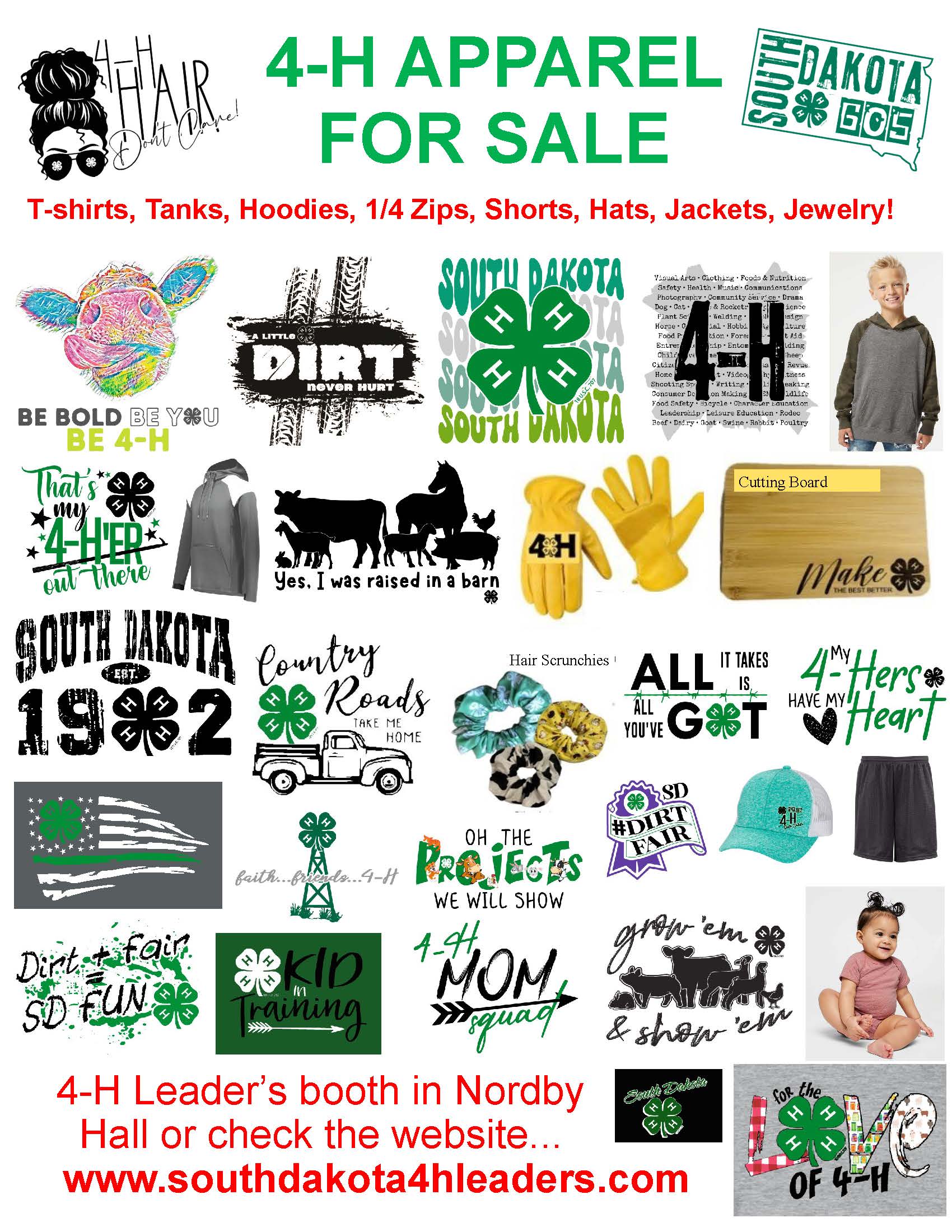 Judging 4-H Cookies & Bars
Here is a training video from SD 4-H Leaders.
Link to the video Judging 4-H Cookies & Bars - YouTube
Link to a document with more information that could be printed for reference http://www.southdakota4hleaders.com/Judging/JudgingCookies.pdf
We hope that this video will be a good resource for judges, as well as for our families preparing the exhibits.


Black Hills Gold/Silver 4-H Pendants & Tie Tacks for Sale
These Black Hills Gold/Silver 4-H pendants and tie-tacks sell exclusively from the SD Association of Extension 4-H Professionals. Funds acquired through these sales help offset costs when our SD 4-H advisors/staff go to national meetings and obtain professional development. On the form, the pin is a tie tack and a pendant is a necklace. Buy for yourself or give as a gift! Here is the order form: Black_Hills_Gold__Silver_Order_Form_Fillable.pdf.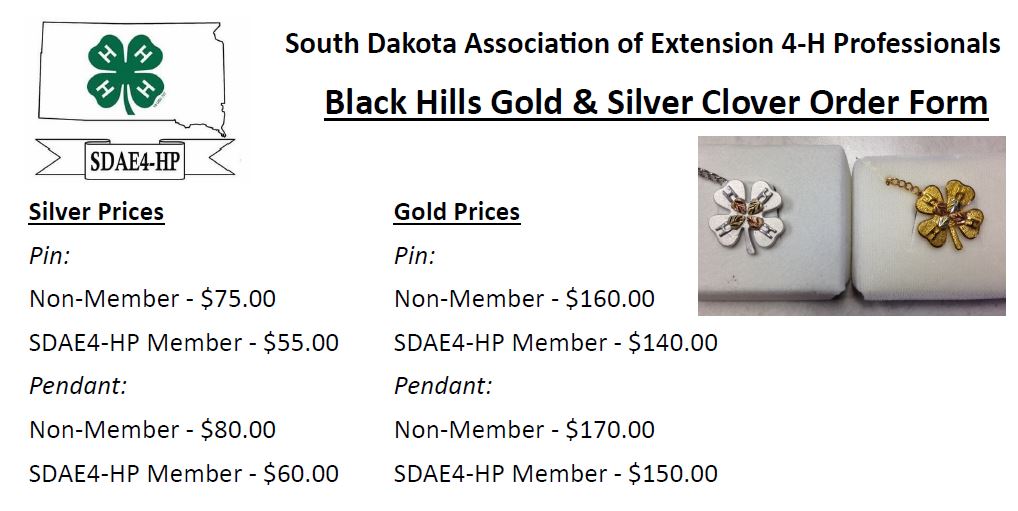 Project launched to help youth: Listen, Learn, Lead
https://listenlearnlead4h.weebly.com
Danika Gordon, who is a ten-year Butte-Lawrence County 4-H member, has created a new leadership project as part of her role as a current state 4-H ambassador. Gordon has established a website titled Listen, Learn, Lead or L3 for short. For 2019, she has posted four TEDTalks for youth to listen to on the site at https://listenlearnlead4h.weebly.com/. Discussion questions developed by Gordon are also listed with each of the talks to prompt reflection either as an individual or group setting. Gordon suggests youth might gather to watch the TED Talks during a 4-H club, 4-H junior leaders or FFA chapter meeting, or simply during free time or as a family. She says the project was designed to be similar to a book club. After watching the TED Talk, youth can have a short discussion with others about what they learned or agreed with or maybe disagreed with from the presentation. The topics Gordon selected for this year s TED Talks highlight introverts, body language, views on leadership and thoughts on what helps people be successful in school and life. Gordon hopes to select four new TED Talk presentations annually to continue fostering learning and leadership among South Dakota youth. Youth who watch the TED Talks and then post a comment on the L3 Facebook page, will also be entered into a drawing for an Amazon gift card. To learn more check out: https://listenlearnlead4h.weebly.com

Quick Links
4-H Shooting Sports rules: https://extension.sdstate.edu/south-dakota-4-h/competitions-state-fair
State 4-H Rodeo Resources: https://extension.sdstate.edu/south-dakota-4-h/competitions-state-fair
4-H Event Deadlines - Sign up to receive a weekly newsletter: https://sdstate.questionpro.com/a/TakeSurvey?tt=FFw22eZ3E5A%3D
Contacts: https://extension.sdstate.edu/about/our-experts


Mini-Grants - for 2022-23 4-H Year

As you are gearing up to plan for this next 4-H year you may want to consider applying for a Mini Grant!

Mini grant applications are due December 31st. They must be received via email or postmarked by 12/31/22. Late applications will not be considered.
http://southdakota4hleaders.com/doc/App-MiniGrant2023.pdf or
http://southdakota4hleaders.com/doc/App-MiniGrant2023.doc
The grant amount available per county is $400. Counties may choose to do projects together 2 counties can apply for $800 for a combined project 3 counties can apply for $1200 for a combined project. The max amount available for a single project is $1200.
Note: If you received a grant in this past 4-H year, you are required to submit a report on the project before you are eligible to apply for this year s grant opportunity.

So what is a Mini Grant? Each year, the State 4-H Leaders of SD award Mini-Grants across the state to county or 4-H club projects. The purpose of the 4-H Grants Program is to address youth needs at the local level. The State 4-H Leaders of SD recognize that the greatest impact of 4-H occurs at the local level, usually between youth and 4-H volunteers.
Criteria for awarding funds include:
* Potential for youth involvement in the planning and implementation of the project.
* Potential impact on addressing youth issues at a local level through either a traditional or nontraditional setting.
* Potential for increasing life skill outcomes for youth.
* Potential for reaching expanded youth audiences e.g. at-risk low income, single parent families, other cultures, disabled, etc.
* Potential for transitioning new youth audiences into more traditional or ongoing 4-H programs.

Grants funds can be used to purchase educational materials and supplies, expenses/honorariums for speakers, travel and training. Generally, snacks for refreshments, give-away items, e.g. t-shirts, etc. and building rental are not approved expenditures. Monies can t be used for capital equipment or hardware (defined as items and material with a life expectancy of greater than five years) or building drives.
SD 4-H is on Facebook!!
Click here to find SD 4-H on Facebook and find the latest information revolving around 4-H activities in SD.

Click here to find SD 4-H Leaders Association on Facebook!


Rural Youth Loan Program
Here is information about the Rural Youth Loan Program available to 4-H members. The U.S. Department of Agriculture s Farm Service Agency (FSA) makes operating loans of up to $5,000 to eligible individual rural youths age 10 through 20 to finance income-producing, agriculture-related projects. The project must be of modest size, educational, and initiated, developed and carried out by rural youths participating in 4-H clubs, FFA, or a similar organization. For more information, leaders should contact their local FSA Office or visit http://www.fsa.usda.gov.
A one page fact sheet is available at: http://www.fsa.usda.gov/Internet/FSA_File/loanyouth.pdf.

Farm Credit has a similar program available for youth loans! You will find information on their website http://www.myaglender.com/youth-loans_5152_ct.aspx.


Visitors to 4-H Leaders Page: